Psyclone™ Hot
- Bridge
Summary
Beefed up output, punchier mids, and fuller lows make the Psyclone Hot bridge a potent upgrade to any Filter'Tron loaded guitar.
Description
Like a classic car, sometimes stock just isn't good enough. When you love the classic curves but need more horsepower under the hood, that's where the Psyclone Hot comes in.
The Seymour Duncan Psyclone Hot bridge takes the distinctive sound of the original Filter'Tron pickups and supercharges it. Punchy mid-range, tight low-end, and smooth treble combine with the higher output to deliver a pickup perfect for rock, new wave, punk, and psychobilly.
Originally designed in our Custom Shop, we took special care when sourcing materials to ensure the look and fit of the pickups are perfect – whether you're hot-rodding a vintage guitar, or dropping them in a modern classic.
The Psyclone Hot bridge is a drop in replacements for any guitar routed for Filter'Tron style pickups, and includes the correct hardware for either direct mount or pickup-ring mounting options.
Psyclone is hum cancelling and uses single conductor lead wire. Each Psyclone pickup is handmade in Santa Barbara, CA.
FIND Your
PERFECT PICKUP
Videos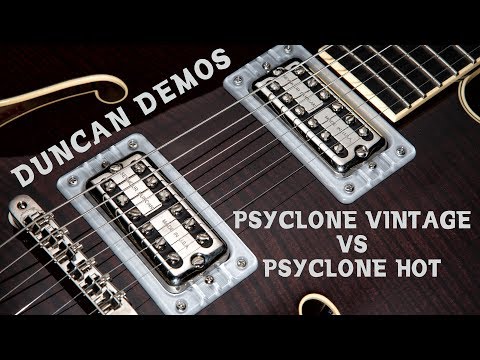 Filter' Tron style pickups Psyclone Vintage vs Hot | Duncan Demo
Kevin Harvey demos two types of Filter'Tron style pickups the Psyclone Vintage Set and the Psyclone Hot Set. Hear how these pickups sound in a mix and without backing tracks. Just like all our pickups these are hand made in Santa Barbara California. You can order them in Nickel or Gold covers.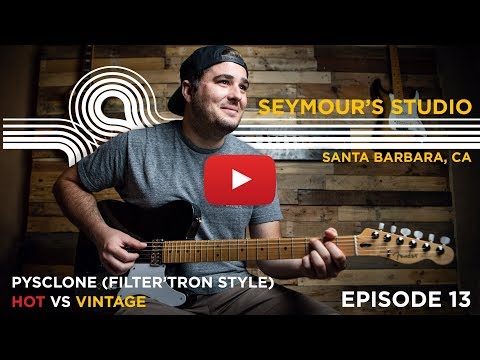 Seymour's Studio Episode 13 - "Psyclone" Vintage and Hot Filter'Tron style pickups
Chet Atkins, George Harrison, Brian Setzer, Billy Duffy, Malcolm Young… What do theses five guitar icons have in common? They all changed our perception of what defines "good guitar tone" with one common tool – the Filter'Tron pickup.