Psyclone™ Vintage
- Neck
Summary
Originally designed in the Custom Shop, this Filter'Tron style neck pickup captures the unique warmth and sparkle of vintage Gretsch guitars.
Description
The Seymour Duncan Psyclone Vintage neck pickup recreates the distinctive sound of the original Filter'Tron pickups of the fifties and sixties. Due to tighter pole spacing, low DCR, and strong magnetism, the tone falls somewhere between a PAF style humbucker and a single-coil – warm, clear, snappy, and sweet, making it the perfect complement for country, jazz, and classic rock.
We took special care when sourcing materials to ensure the look and fit of the pickups are perfect – whether you're restoring a vintage guitar, or dropping them in a modern classic.
The Psyclone Vintage neck is a drop in replacements for any guitar routed for Filter'Tron style pickups, and includes hardware for either direct mount or ring mounting options.
Psyclone is hum-canceling and uses single conductor lead wire. Each Psyclone pickup is handmade in Santa Barbara, CA.
FIND Your
PERFECT PICKUP
Videos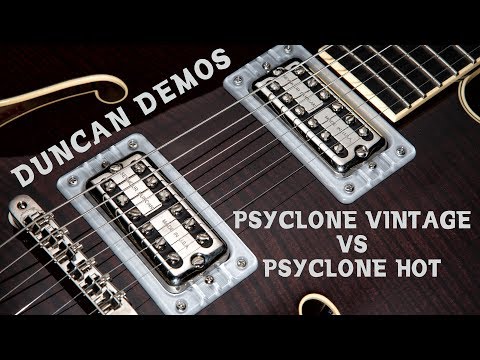 Filter' Tron style pickups Psyclone Vintage vs Hot | Duncan Demo
Kevin Harvey demos two types of Filter'Tron style pickups the Psyclone Vintage Set and the Psyclone Hot Set. Hear how these pickups sound in a mix and without backing tracks. Just like all our pickups these are hand made in Santa Barbara California. You can order them in Nickel or Gold covers.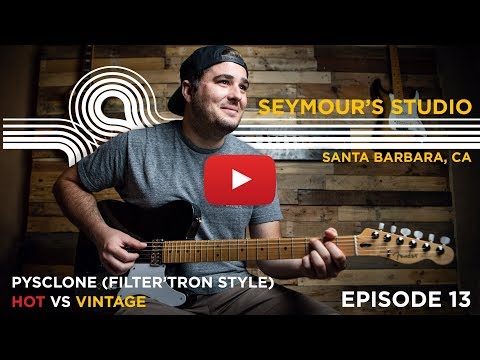 Seymour's Studio Episode 13 - "Psyclone" Vintage and Hot Filter'Tron style pickups
Chet Atkins, George Harrison, Brian Setzer, Billy Duffy, Malcolm Young… What do theses five guitar icons have in common? They all changed our perception of what defines "good guitar tone" with one common tool – the Filter'Tron pickup.