Click on the pics with pins to read the stories of our journey.
ORIGINS
THE GO TO GUY
Seymour in London looking quite the rocker. He had been in London for several years working at Fender Soundhouse as a guitar repairman, earning a reputation as someone who knew how to bring out the best from a guitar. Jimi Hendrix, Jimmy Page, Eric Clapton, and of course Jeff Beck were just a few who came to him to work on their guitars. He was already starting to work on the 'electronics' and repair damaged pickups.
SURDY-GREEBUS
In 1967 Seymour was a member of Surdy-Greebus, along with photographer Stu Levy. The band, which played locally in Cincinnati, was deep into psychedelic music as well as fog machines! Other members of band were Eugene Katona, Tom Hogeback, West Davis on drums and Paul Webb on keyboards.
WOUND FOR JIMI
I took this photo and other Jimi Hendrix photos at Xavier University in Cincinnati, Ohio. Soft Machine was opening for Jimi. This particular photo I took of Roger Maher, Jimi's tech who put some SWD wound pickups in one of his Stratocasters. It was in March 1968. They gave me some old strings, parts, and even one of Jimi's scarves.
JEFF BECK'S FENDER
I took this photo at Springbrook Gardens in Lima, Ohio around 1966…Jeff Beck was not with the band, but that's where I first photographed his Fender Esquire he used in the earlier days of the Yardbirds. The guitar Jimmy Page is using in this photo has "Jeffman" on the back. I believe this is the guitar he later used on the first Led Zeppelin albums… SWD
1970s
OUR FIRST BUSINESS CARD
This was our very first business card. We paid $35 for the design, it shows Seymour's beloved tele.
First orders for Eddie
December 1978: one of our very early orders for Eddie.
THE TELE-GIB
Seymour holding his beloved tele-gib.
TRAILER DAYS
This is the trailer I had in Topanga Canyon when Seymour and I first met. I had been there a few years after dropping out of the University of Florida in Gainesville. Seymour had been flown over by Chris Rainbow for some recording in LA. Jamie Shane, of Canned Heat and still our dear friend, introduced us. BTW, Jamie is quite the artisan and inventor. You should see his Harleys! He is the designer of the 'triple Shot' we offer today.
OUR FIRST WAREHOUSE
Cathy and Seymour in our very first warehouse on Yananoli St in Santa Barbara. At first we could only afford to sub-rent 12 x 15 feet! Notice Seymour's tele-gib.
THE BOBIFIL
Cathy on our first real winder, a bobifil.
FIRST AD
This is our very first ad which ran in Guitar Player in the late 70's. We didn't yet have enough money to make the tooling needed to punch flatwork to make Strat and tele pickups. So we started with offering rewinds. For $17.50 we'd rewind your Strat or tele to your liking.
LUNCH BREAK
Living in the warehouse, taking a lunch break. Hey we didn't waste any gas to travel out to lunch! BTW, if you are interested, our first year's gross sales were $15,000. Then we doubled to $35,000, then to $85,000! We were on a mission to provide equally hard working musicians the right tone they needed and wanted, so we didn't mind.
BASS REPAIR
Doing a repair job on a customer's bass in the Yanonali Street warehouse.
SOUNDS LIKE TONE
1977 Seymour played, and we demoed what our pickups sounded like. We gave these away if people wrote in to ask for one, and once put them into a Guitar Player magazine. We really wanted people to hear how good the pickups we were making could sound like. We weren't making the 'hottest' pickups at the time, but we felt ours gave players the raw material to shape the tone with their fingers and playing style.
BRASS BRIDGES FOR TELES
Our very first product was brass bridges for teles. At the time, all the CBS made teles only came with smaller steel bridges and they didn't have the sustain and tone of the original style brass. So we decided to build these. We bought all the parts and sat around screwing them all together listening to music.
OUR FIRST EMPLOYEE
This is Rick J. He was our very first 'employee' and worked part time while he was in high school. He was fun and helped with keeping the inventory and with packing and shipping. Seymour is slowly starting to let him do some assembly of the new strat and tele bobbins before he winds them. It's '78 or so and we have now expanded to our new 2000 sq ft warehouse on Bond Ave. Still living in the warehouse…but we have windows now!
GOOD FRIENDS
Seymour and Roy Buchanan were very good friends. We would go see him whenever he was out on the West Coast.
DROP-OFFS
Cathy and Elliot Easton of the Cars. Like many other musicians, they would bring their instruments by, and we would do re-winds or install pickups on the spot.
1980s
Leo Fender, our first son Cody, and Seymour at a trade show. We're still making brass bridges, and doing rewinds and by now, we are offering our own pickups for Teles and Strats.
ORIGINAL STACK PATENT
The patent for our original Stack was awarded in 1985. We loved the sound of strats, but that hum is tough to take. We still build these today, along with other noise-free pickups for Strats and Teles, like our Hot Rails, Cool Rails, Duckbuckers, and the Stack Plus series.
Visiting with Eddie and Alan Holdsworth, two great customers and friends.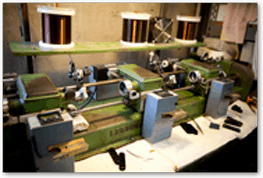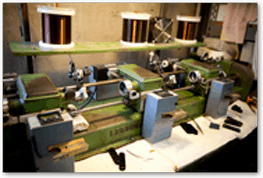 THE LEESONA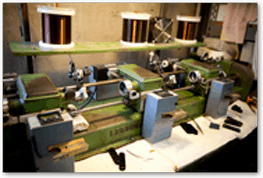 Seymour was an authorized Gibson repairman in the 80's and he flew to Kalamazoo, MI for training. There he saw the old Leesona winders still in use in the factories. When the new owner of Gibson closed the Michigan factory and moved it all to Nashville, they sold off all of the old equipment. This is the original Leesona we bought in the early '80s. We have been using it to wind bobbins ever since. Today, it still winds all our PAF style pickups—from our '59's, Pearly Gates, Seth Lovers and Vintage P-90s, to our Antiquities. Remember when they built tools and machines to last 100yrs?
Jim Marshall and Seymour
ERIC CLAPTON'S WEDDING
Seymour was invited to Eric's wedding. Here's Albert Lee, Seymour, and Eric Clapton.
1982 letter from Eric Johnson. By this time we had been rewinding and building pickups for Eric for a few years. What ears!
Steve Morse and Seymour at the factory.
BOND AVE
Bond Ave, our second warehouse. We outgrew our 12' x 15' on Yanonali. This one was almost 2000 feet with windows and light, yay! We lived here for almost two years. (Thanks to our landlord who turned a blind eye and didn't turn us in to zoning)
Seymour and Kevin Beller. Kevin, a bass player, dropped by our Bond Ave warehouse one day in 1979. He was bored with his job at a hi-tech firm in town, and we needed someone else to join the team and help ensure every pickup was wound and built to our quality standards. He started taking on R&D duties in the early 80's and, for the last 25 years, has been our Chief Engineer.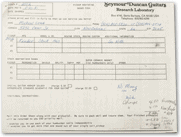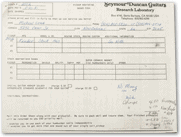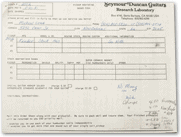 Our original order forms for pickup rewinding and repair. We charged this guitarist $8 to re-magnetize his pickup and get a new pot. It was for a '63 Strat. To this day we respect musician's hard earned money and work hard to have reasonable prices.
First "Real" Ads
This series of 3 ads and store posters were our first 'real' ads. Collin Campbell, Mark Oliver and John Davies totally got our vision and values. Cathy no longer had to design and write the ads—she was happy.
ANTIQUITY PACKAGE
Seymour loves the feel, tone and look of Vintage guitars. So the thought of putting in a brand new Strat or tele into an older instrument just didn't seem right. In 1992, Seymour developed the line of Antiquities. He started by conceptualizing what great '50s instruments would have sounded like. The antiquities are handmade in our special way of laying the wire around a coil and using Seymour's "Dun-aging" processing of the alnico magnets. Now... how to make them look old? Seymour loved every minute that he spent researching and developing what, at the time, were the first 'relic' products—everything from how to dye the Strat covers for that exact color, to how to get that smokey, dusty look for each pickup, to sewing the bag—each pickup is packed in on his industrial sewing machine. Being the historian that he is, to this day they are all numbered and signed (on the HB bottom plates).
GUINNESS BOOK OF WORLD RECORDS
Seymour loves to work on fun projects! The 1984 Guinness Book of World Records determined this as the largest working guitar! It has since been eclipsed with another one Seymour made the pickups for. I wonder where it is these days?
TEAM AT CHAPALA STREET
This is our team in 1981 at our third warehouse on Chapala street. By now we have a full line of humbuckers, strats, teles, and are even building pickups for Jaguars and Jazzmasters. Some of our team members you see here are still with us today. Kevin Beller is front and center, Jose, Custom Shop builder, is second row on the right. Seymour is holding our son Cody. Many others are 'Alumni' including Rob Allen (in the very back left) of Rob Allen guitars, Geoff Richardson, one of the chief architects of Kubicki Basses, is in the left middle. We all worked hard and were on a mission.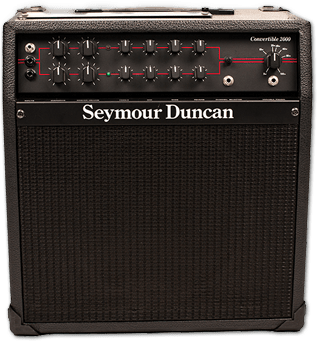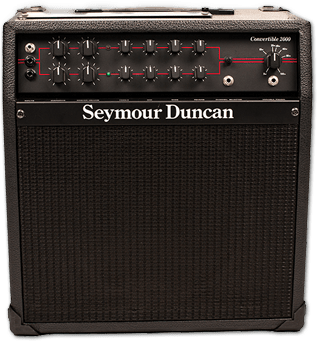 CONVERTIBLE AMP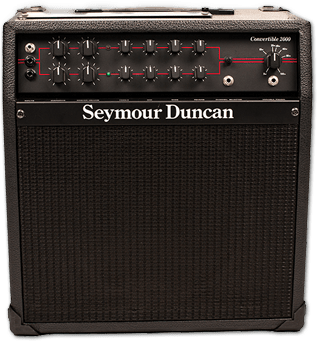 The Convertible Amp. Wow, did we do a lot of cool and patentable designs. First shipped in 1982.
PEOPLE GET READY
This photo was taken during the filming of the "People Get Ready" video with Rod Stewart. Taken by Robert Knight in Randsburg, California, an old gold mining town. The guitar I'm playing was given to Alan Dutton and then given to Jeff Beck… It had our 1953 Model T custom shop tapped Tele lead pickup and RW/RP neck pickup. Jeff used it on the album/CD "Guitar Shop."
KRAMER BOYS
Life was pretty fun in the early '80s. Here's a photo of Floyd Rose (bridges), Steve Ripley, Dennis, the owner of Kramer, Seymour, and of course, Eddie. Eddie, who we had worked with for years, wanted us to make pickups for this new guitar he was making with Kramer. We finally said yes and Kramer was our first OEM customer (original equipment manufacturer).
SEYMOUR AND ROY
Seymour and Roy Buchanan down at the Roxy in LA. Roy could make a tele sing and cry like a woman.
Seymour and Phil Kubicki. Phil was our next-door neighbor on Bond Ave. Seymour is holding Jeff Beck's tele. Phil is just starting building his fabulous Factor Basses. One day Phil rushed over and asked us to come help him. The Santa Anna winds had just picked up, the humidity was dropping like a rock and you could literally hear the wood body blanks cracking! We laid out all kinds of tubes of water and wet towels on the floor everywhere.
Eddie and Seymour at another trade show.
LIVEWIRE PICKUPS
Our first active pickups were Livewire in the mid-80's. They were the first to use 18v supplies for lots of headroom. Musicians were asking us for a bit of character to an otherwise flat active tone, so we designed the circuitry for added top end and bottom.
Seymour, Billy Gibbons and Tony Dukes. Billy flew out his beloved Pearly Gates and four other guitars built just like it. Our job in those two days was to build pickups that made those guitars sound identical to Pearly Gates. Mission accomplished.
HOT RAILS
The Hot Rails is another new pickup design for Strat players. It is high output, fat and thick sounding great—for big rock and for heavier style without noise.
1990s
TARA AMP
We designed the TARA , True Acoustic Response Amp, in the early 90's. We were really digging acoustic gear and found ourselves listening to musicians and asking questions. We realized acoustic lovers want their amplified sound to sound exactly like their guitar. Acoustic guitars need another octave lower to capture the signature of the body, and a true hi-fi flat response. So we started with a discrete class A power amp, designed the crossover for the speakers, spec'd the tweeter to hi-fi standards (response out to 20khz!) and designed the tuned speaker cabinet. As usual, when we get into something, we do a deep dive. Why do other builders set a fixed frequency notch? And why cut out the entire signal? Just like a PA, sometimes you just need to drop it down a little, so that's what we did. With its 2 channels each with vocals and instrument inputs, 5 band eq, 3 effects loops and more, it lets a gigging acoustic player be a one man show with a full 'PA' setup. Course building it into a solid cabinet with old world speakers beefed it up to just under 60 lbs. We didn't quite figure out how to build a roadie into it!
BILLY G.
Billy out shopping with Seymour, shows off his newest guitar, a Jaguar. They both have GAS (guitar acquisition syndrome) pretty bad.
THE FORUM
We wanted to build a place where musicians could talk music, tone and gear – all day and all night. So in 1996 we launched one of the first online forums in the industry. We had only 2 simple rules; it's an open forum where you can talk about any product by any manufacturer, just keep it respectful! We started with just 20 members, prime among them Evan Skopp, Rodney Gene, Jeremy Walz and Kelly Stoelthing. It has over 19, 000 users now. It truly is a Community…. where anyone—new or experienced—can listen, contribute and hang out with fellow tone lovers.
WHERE IT'S MADE
By 1994 we were done with bad landlords and boring buildings. We were fortunate to be able to buy an unfinished building with the help of a SBA (small business administration) loan and make it just the way to suit us. It's not big, we are really cozy here today, but it's home to us.
ACCELEROMETER
We developed this unusual pickup in the mid-90's for percussive acoustic players like Michael Hedges, Preston Reed and others. It's based upon an 'accelerometer' which produces a very detailed, nuanced and accurate response to all the movement of the guitar's top and related structure. Coupled with our musically voiced preamp, it's also great for anyone who wants that level of detail and responsiveness.
JAMES BURTON
James Burton loved teles as much as Seymour! From Ricky Nelson to Elvis to Emmylou Harris and John Denver, James brought crowds to their feet with his playing. A long time Custom Shop customer, he is Derek's godfather.
TALKING HISTORY
Seymour first met Seth in the early 80's, and they visited and talked history often. In the late 90's, we released our Seth Lover Humbucker, made to Seth's original specifications, including the fact that it's unpotted. It's still one of our best selling PAF style humbuckers. Seth was very knowledgeable and funny (how could you not be having lived with a name of Mr. Lover your whole life?). His wife, Levone, would make us tea and cookies, and Seth would serve us some of his fresh roasted chicory 'coffee'.
HUMBUCKER PATENT
This is the original drawing for the humbucker patent, filed in 1955 and awarded July 28 of 1959 to Seth Lover and Gibson Guitars.
Acoustic Tube
The Acoustic Tube was our first acoustic pickup back in the early '80s. We wanted a lot. We designed it with a small profile to not interfere with the natural soundhole acoustics and in order to achieve a true acoustic sound. We created a balanced string response (12 magnets) for smooth attack and made it totally quiet and feedback resistant with adjustable legs so guitarists could adjust to accentuate the bass or treble. There is even a volume control right there…. Necessary in the old days when tuning on stage with old school tuners.
Woody
This is our Woody pickup for acoustic guitars. We designed our first acoustic pickup, the 'Acoustic Tube' in the mid 80's and it sounds great, but was more expensive. We thought musicians should be able to have a soundhole pickup at a really affordable price. We still make the Woody today. They accurately and smoothly capture the air and liveliness of strings without that midrange honky-ness.
Seymour teaching Dweezel the finer points of winding at the factory.
MR. LOVER
Seth Lover holding the original patented humbucker. Not only was Seth a real inventor, he was also a comic. How could you not be after going through life introducing yourself as Mr. Lover?
DUCKBUCKER PATENT
We received our patent for Duckbuckers and Vintage Rails in 1996. Kevin and team designed these with an offset magnetic structure to pick up the same narrow string aperture as a traditional Strat. This maintains the tonal characteristics and full frequency range of a single coil. You get the same output but without the noise.
Seymour and James Burton trading licks.
ACOUSTIC TUBE
The Acoustic tube was our first acoustic pup back in the early '80s. We wanted a lot. We designed it with a small profile to not interfere with the natural soundhole acoustics, true acoustic sound, balanced string response (12 magnets) for smooth attack, totally quiet and feedback resistant, adjustable legs so guitarist can adjust to accentuate the bass or treble. There is even a volume control right there…. Necessary in the old days when tuning on stage with old school tuners.
2000s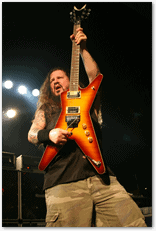 Eddie dropping by the custom shop. We love his commitment to guitars and tone.
MJ and Seymour building this humbucker 9x the usual size. This was for the Discovery Channel Big in 2004. You can catch it being played by Peter Frampton on YouTube.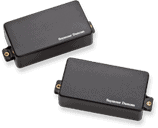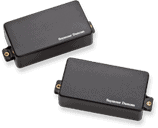 BLACKOUTS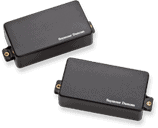 In 2006, we designed a hybrid preamp that combined discrete FET and op amp components. These are true balanced differential preamps and have super low noise and incredible dynamic response. They are touch sensitive and don't feel compressed. They can provide very high output, but with warmth and an organic sound.
John Fogerty and Seymour hamming it up. Seymour has a great sense of humor, and we are all on our toes when April 1st rolls around!
Our youngest son, Derek, sitting at the winder in the custom shop. Derek started working full-time in 2005, and has been the Manager of the Custom Shop since 2011.
Solstice, Equinox, and Mama Bear, the 3 products we designed and built under the DTAR (Duncan Turner Acoustic Research brand).
Our 2009 Users' Group day. Mostly forum members, it's a few days of good food, good music, and good friends. Our first Users' Group day was held in 2005.
We had been designing some inventive acoustic products—from the TARA amp to the Perfect Timbre pickup (based on accelerometer technology), to the Mag Mic, with its fully customizable tone. We met up with Rick Turner in the early 2000s and found we both shared a vision for inventing some new gear for acoustic players, so we founded DTAR, Duncan Turner Acoustic Research, in 2002. We developed an acoustic modeling system, Mama Bear; the Solstice preamp, and the Equinox eq system. We found it was too hard to work together remotely and went our own ways in 2011 (discontinuing the DTAR brand in 2015).
ORIGINAL PICKUP BOOSTER
This is our original pickup booster first shipped on 12/10/2002. It was the first 'booster' on the market and was designed to provide a transparent and musical 'boost' to drive your amp a little harder, or provide a lead boost. It's very transparent, with extremely low noise from a discrete class A design. We also had fun designing in a switch to shift the resonate frequency of your pickups if it's the first pedal in your signal chain. You can fatten a Strat into PAF or hot humbucker.
Antidote to sitting at a desk all week? Riding and racing in the great outdoors! This is a week after winning the 2008 Baja 1000 championship in Pro class 250cc Bikes. Only a couple of women have ever raced motorcycles in this difficult and dangerous race in its 40 years. Anna Cody being one of those. We decided it was time to show women could compete and win. And we did it!! p.s. The bike was a dream…. It brought out the best in us, just like a great guitar does.
Madame MJ. Have a pickup problem, she'll cure it for you.
Seymour posing with a JB and our original déjà vu tap delay pedal.
Seymour still loves to wind.
Yngwie joins the team! He demands a lot from his equipment, is a fierce player, and what incredible ears!! The YJM noiseless Stack design Strat pickups are one of our best sellers. They are very articulate, clear with a little treble rounded off, good mid and low frequency. They immediately capture your pick attack. Fun to play with.
TWIN TUBE CLASSIC
We wanted to design a true, all tube signal path, from input to output. So that's what we did in February 2006. The switching was achieved with gold contact relays, which provides a very, very quiet switching system with no 'clicks'. The treble and bass controls are passive designs to keep signal path pure tube. And the tubes are military grade sub miniature twin-triode.
2010s
What's an office without some friends? But we have one rule, play nice.
Joe Bonamassa playing at our 3rd Annual Benefit Concert in 2013. A great musician, a great support of music and a good friend.
Joe Bonamassa, MJ and Cathy before a benefit concert
In celebration of our 35 years in business, Seymour spec'd out a limited edition of 35 guitars made exactly like his Tele-Gib. Each one was numbered and signed.
Seymour and Slash playing together at our 2014 benefit concert. You can see Robert Randolph on pedal steel in the background. They brought the house down!
SHAPESHIFTER
ShapeShifter tremolo pedal first shipped in March 2014. One of our traditions is that everyone directly related to the design and production team signs the bottom plates of the first 25 pedals. It's like christening a ship!
THE 805
The 805 overdrive pedal, 2014.
Joe Bonamassa came to us to build a limited edition replica of one of his favorite Les Paul's, SPOT. The Custom Shop built 1959 sets. They are sold out.
THE NEW PICKUP BOOSTER
Our new pickup booster pedal was released in July 2014. This replaced the larger, original booster pedal which we designed in 2003.
The second pedal created in the Seymour Duncan pedal line, the Vapor Trail is an analog delay capable of warm, authentic vintage tones, lush modulation and a few extra tricks.
Seymour and Yngwie playing onstage in Italy 2010. They had different styles but really clicked. Good thing Seymour didn't get hit on the head with one of Yngwie's flying guitars!
ZEPHYR SERIES
We are always thinking of new ways to bring more out of guitars. We posed that question to Kevin and said……take it to the limits. The Zephyr series is the result. Incredible definition and responsiveness. Released in 2011.
This is Jeff Beck's Tele that was used on Blow by Blow. He gave it to Seymour as a trade for another guitar that Seymour made for him. Seymour decided it should be seen and enjoyed by others in the Rock 'n Roll Hall of fame, where it has been on permanent display since 2008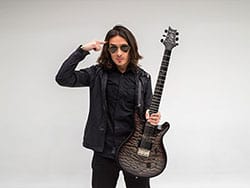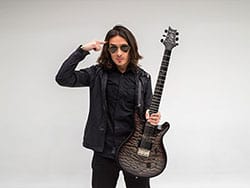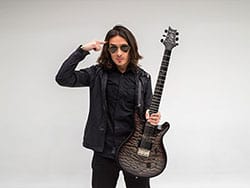 In 2015, Seymour Duncan and Mark Holcomb partnered on Mark's signature Alpha/Omega Humbuckers, available exclusively through the Custom Shop.
A studio-quality bass compressor pedal with the ability to blend in various uncompressed sounds for ultimate dynamic control.
In 2017, Seymour Duncan and Mark Holcomb annouce the Alpha/Omega humbuckers for 6, 7, and 8-String as production pickups.
In 2018, Seymour Duncan and Alex Skolnick partner on Alex's Signature Humbuckers, available exclusively through the Custom Shop.
In 2016, Seymour Duncan annouces the PowerStage 170 and 700 Pedal Platform Amplifiers
The Pegasus humbucker delivers a warm, balanced, responsive, and lush tone for progressive metal.
Forged to fathom the deepest of metal tunings, the Nazgûl's searing highs, grinding mids and tight bass define the sound of modern metal.
In 2019, Seymour Duncan releases collaborative digital Delay + Reverb pedal designed in conjunction with Mark Holcomb.
In 2019, Seymour Duncan and Wes Hauch partnered on Wes' signature 7-String dual-rail Jupiter bridge humbucker, available exclusively through the Custom Shop.
Diamondhead is a Multistage Distortion + Boost pedal that captures the tone and feel of a hot-rodded tube amp being pushed by a drive or boost pedal – the guitar sound that defined classic 70s and 80s Metal and Hard Rock.
In 2019, Seymour Duncan releases a limited edition run of 34 sets of Jimi Hendrix Signature Strat pickups handwound and signed by Seymour W. Duncan.
2020s