Jimi Hendrix™ Signature
$379.00
In 1968 Jimi Hendrix played a Strat loaded with pickups hand-wound by Seymour. Fifty years later we are proud to share a piece of that history with you.
TECH SPECS
DCR – Short for DC Resistance, is measured in Ohms and is the total resistance of the copper wire wound around a coil form. The length of the coil form, the number of turns and the gauge of wire all affect the DCR reading. DCR is often used as a gauge of output because as the turns increase, so does the output, though magnet type and the coil geometry also influence output.
Magnet – We use several different magnet formulations: Alnico 2, Alnico 3, Alnico 4, Alnico 5, Alnico 6, Alnico 8 and Ceramic 5/8. In the case of pickups, the most significant characteristic is the gauss strength, which is a measure of the density of the magnetic field. Of the magnets we use, Alnico 3 has the lowest gauss strength. From there in order of ascending strength you have A2, A4, A5, A6, Ceramic and A8. As the gauss strength goes up, so does the output. The magnets at the lower end of the scale tend to produce a softer attack and a degree of "bloom" to the envelope of the note. Ceramic magnets should be considered as an individual case because they do not contain any nickel or iron. This has the effect of decreasing the inductance of the pickup and significantly raising the resonant frequency. It is for this reason that many consider ceramic magnets to have a brittle sound, not their gauss strength. Looking at this from another point of view, ceramic magnets can be said to produce increased clarity, better note definition and faster response to picking.
Output – The overall output of a passive pickup is influenced by several design factors: number of turns of wire on the coil(s), strength of the magnet, coil geometry and magnetic circuit geometry.The output of an active pickup is influenced by the same factors but is predominantly determined by the design of the onboard preamp.
OUTPUT
(Choose dropdowns to display)
DCR:
(Choose dropdowns to display)
Product Details
Description
On March 28, 1968, Jimi Hendrix asked a young Seymour W. Duncan to walk his guitar up onstage at his show at Xavier University in Cincinnati, Ohio. That Strat was loaded with pickups Seymour had wound just for Jimi, and that unforgettable night would set in motion Seymour's future – and his legacy almost five decades later. Now you can be a bit closer to Jimi's world with our Jimi Hendrix™ Signature Loaded Stratocaster Pickguard.
The Jimi Hendrix Signature Loaded Pickguard houses those pickups in a pre-loaded 3-ply white pickguard and is available with either a standard-angle bridge pickup route or a Voodoo route (reverse-angle bridge route).
Like Jimi's music, the Jimi Hendrix™ Signature Strat Set pickups have their roots in the traditional but with an eye on the future. Each is custom wound for a richer, melodic tone. The bridge model has an aggressive attack that cuts through while staying true to his iconic lead tone. The neck pickup sounds thick and full and is great for chord work, bluesy melodies, double-stops and Jimi's signature hybrid chord/melody style. And in the in-between positions, there's plenty of that classic Strat 'quack.'
To help you to get even closer to Jimi's earth-shattering tone, each pickup is made with a reverse magnet stagger to capture the effect of playing a right-handed guitar upside-down and restrung for a lefty. The Jimi Hendrix Signature Loaded Pickguard comes packed with a little bit of history as well! Each box will come with a memorabilia booklet of Seymour's experience with Jimi, as well as a Jimi Hendrix sticker from that era. The 3-ply white pickguard features 250K pots, a 5-way pickup selector switch and .047 caps. The pickup covers showcase Jimi's signature. Please note that the Voodoo style will only fit guitars with either a swimming pool or humbucker route.
The Jimi Hendrix™ Signature Loaded Stratocaster Pickguard is fully authorized by Authentic Hendrix LLC.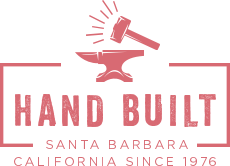 Hand Built in California. Period Correct. Every Time.
Our team of master builders have been with us for an average of 21 years—they take pride in crafting our products to create the most amazing sound possible.
Take Your Tone For A Test Drive
If you're not 100% pleased with the sound of your Seymour Duncan pickups, you can exchange them for up to 21 days after purchase. This offer applies to any pickups bought from an authorized Seymour Duncan dealer in the USA.