If you frequent guitar related forums and blogs one thing you may see being discussed is 'note separation.' So what is note separation, and why would a guitar player be looking for this in a guitar pickup?
Pickups that have good note separation or clarity would probably be best described as having a healthy dose of midrange and treble frequencies and usually, but not always have a fairly moderate output. Pickups with good note separation allow complex chord work to really shine, letting each note be heard clearly even under high gain. Players of progressive music styles will particularly appreciate a good bridge pickup that provides excellent note separation. Here's a shortlist of Seymour Duncan pickups that fit the bill.
JB
The JB is the world's most popular humbucker for a reason. The pickup that helped start it all for Seymour Duncan is great for any style that requires some dirt and attitude. It has plenty of output, singing highs and great harmonic content that allows everything to shine. The JB is also available in a 7 string version. If you'd like to know more, check out The JB: The Sound of ROCK and The JB and 59 – A Classic Combination.

Full Shred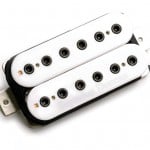 If you're after a pickup that will slice through the mix with great precision like a scalpel then the Full Shred is for you. The double rows of allen screw pole-pieces help create a tight tone with a finely tuned high end. The tone is nice and fat and perfectly defined for speedy and complex riffs. The Full Shred bridge can also be complemented with a neck model for sweet fluid lead work and beautiful clean parts. A 7 string version is also available. There's more info in Shredding It Full Shred Bridge Style and Shredding It Full Shred Neck Style,

Duncan Distortion
One of the original "metal" pickups, the Duncan Distortion is an aggressive pickup that still retains clarity with even the heaviest tones. Anyone playing brutal, angry music will appreciate the raw power that the Duncan Distortion provides. Like the Full Shred, the Distortion comes in both bridge and neck flavours, as well as 7 and 8 string versions.

Black Winter
A relative newcomer to the Seymour Duncan lineup, the Black Winter is an extremely brutal pickup designed for the type of extreme metal typically created in Scandanavia. With the right balance of bass, midrange and treble, the Black Winter can go from devastating riffs to articulate solos that just cut through the mix. Once again the Black Winters come in both bridge and neck models, as well as 7 and 8 string versions, and combined they create a very versatile guitar.
The Versatility of the Black Winter Bridge
The Versatility of the Black Winter Neck

Pegasus
The Pegasus is one of the first pickups Seymour Duncan designed from the ground up with 7 and 8 string guitars in mind. It was created to accentuate every note regardless of how much distortion is dialled in or how low you're tuned. Its moderate output and tonal balance ensures that every note in complex chord work rings clear as a bell. But 6-stringers shouldn't feel left out: after pretty much non-stop demand from day one, a 6-string version is now available too for those who want the same clarity, power and detail but don't want a few extra strings on their axe. Read more in Introducing the Pegasus.

This is not an exhaustive list but a start to help you find the right match for your guitar. If you have any questions, feel free to ask in the comments, on Facebook or Twitter, or in the Seymour Duncan User Group Forums.