Originally wound as part of a pair for Seymour's own Tele-Gib (which was built for a certain legendary British guitarist in the 70s), the JB has gone on to become one of the most iconic bridge pickups in rock music. However, even though it's the world's most popular pickup, you might not know it immediately. It's kind of an unsung hero of sorts. But even if you don't know the name, chances are you know the SOUND. Matched with the right guitar, it's positively lethal; its character instantly recognizable. And in the hands of a great guitarist, riffs, power chords and solos sound HUGE with it.


Check out Keith Merrow's JB high-gain demo to hear how well it handles epic riffage:
The list of artists that have used the JB is long, but chances are if you were pumping your fist to it in the 80s or banging your head to it in the 90s, there was quite likely a JB involved. It was everyone from Steve Stevens to Jake E. Lee to Warren DeMartini, as well as the guitarists in Skid Row's weapons of choice in the 80s, and it was Jerry Cantrell's go-to in pickup for Alice In Chains' groundbreaking early-90s recordings. Legend has it Dave Mustaine insisted Marty Friedman install them in his guitars to mesh with his guitar sounds (also JB-generated) prior to recording the now-classic Megadeth release Symphony of Destruction.  It's been the base point of countless classic and in some case legendary guitar tones. In fact, it's still standard-issue equipment in a plethora of various manufacturer's humbucker-equipped models (Jackson and Schecter, for example). Other pickups have been and will be the flavor of the month, sure – but with a positive track record spanning 30+ years, the JB has undeniably attained classic status.
The JB uses a just-hot-enough wind and an A5 magnet to achieve the right balance of sustain and distortion. It hits the front end of your amp hard – not hard enough to kill it, just enough to get its attention. Think "hot-rodded," not "steroid-pumped." It's got a singing lead tone and great harmonics due to the pronounced treble frequencies, and can go from tough and authoritative to sweet and understated. It produces big, meaty tones that can do anything from classic rock to metal and beyond.
It's especially well-suited for warmer sounding instruments with rosewood fretboards, though in some instruments the JB's exuberant personality can be a bit much, however – but (unknown to some, and unlike a lot of conventional humbuckers) it's designed to work equally well with both 250 and 500k potentiometers. This allows it to be fine-tuneable to better suit the individual guitar. A 250k pot would warm it up in a brighter instrument, and a 500k would brighten it in a darker one.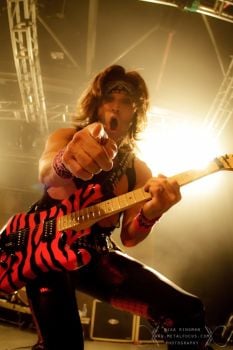 There are many reasons why the JB is and has been used by so many for so long so well. It's got punch, output, clarity, great rhythm and lead tones – what more could you ask for? It can do country, fusion and blues too, but as far as rock bridge humbuckers go, it's hard to beat. It's a great stand-alone pickup for single-humbucker guitars, and when paired with a '59 or a Jazz (its original counterpart in the Tele-Gib), or say with an STK-S6 or STK-S7 in the neck in a humbucking/single(s) configuration, the JB can be an integral part of a versatile and downright dangerous combo! It's available in standard and Trembucker spacing, and there is also an Antiquity version available with an aged magnet for those wanting to faithfully capture the vibe of a 30-year old model of the rock classic.
Which of your guitars would you rock a JB in?
---
Where to buy:
Search Local Music Stores by zip code:
Located outside the USA? Click here to locate our distributor in your country.