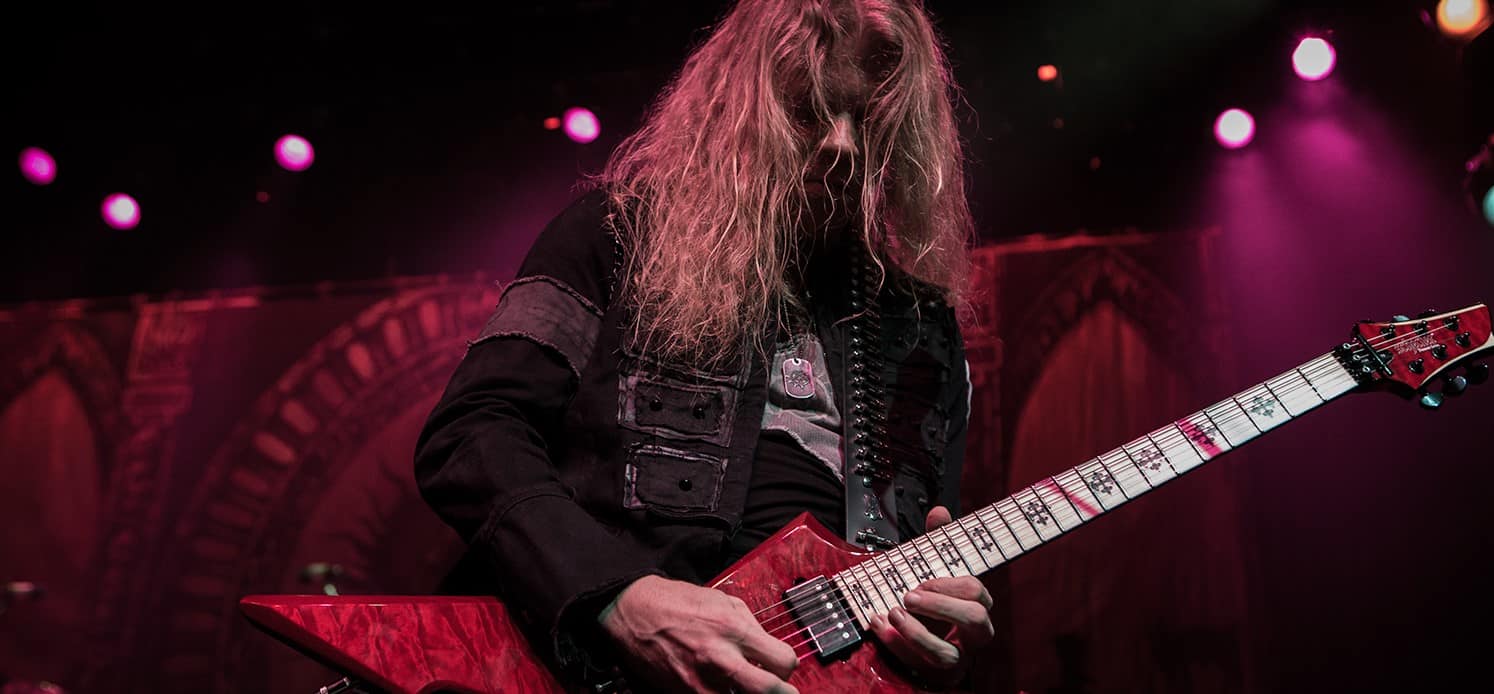 By Martina Fasano
Whether it's with Sanctuary, Nevermore, through his solo work, or most recently with Arch Enemy, Jeff Loomis has developed the reputation of being on of metal's elite guitar players. His column in Guitar World magazine, "Merchant of Menace" provided a great many shredders with the tools they needed to try and emulate his virtuoso playing, while some of us tried to keep up with him through various instructional videos. We caught up with Jeff shortly after his signature Seymour Duncan pickup set was announced at the 2016 Winter NAMM show and asked him about all things guitar, gear, and even who he'd switch places with as a musician. Check it out.
When did you first start playing the guitar and how did that journey progress towards becoming a professional musician? 
I was interested in music from a very early age. My Father was a musician and enjoyed playing guitar. He also had some great vinyls of 70's progressive music that i was listening in on when i was very young as well. My dad actually bought me a three piece Ludwig drum kit and that's how it all started for me. I would play along to records with headphones on, but I was always too shy to take lessons. I got quickly bored with drums, so that's when I picked up my father's classical guitar at the age of 11 or 12. I guess you could say the rest is history but I honestly loved the guitar from the very moment I picked it up. I found I could be more creative with it than playing drums and I was also composing little pieces of music which I thought was a lot of fun. After about 5 years of never leaving my room, I got my first real shot auditioning for Megadeth at the age of 16. Obviously that didn't work out because of my age and not having enough live experience, but it opened my eyes to many other possibilities. I moved to Seattle at age 19 and joined the band Sanctuary as my real first professional gig.
You've had the opportunity to play in some great bands, but you've also done phenomenal solo work. What is your favorite part of both experiences? (being in a band vs. being a solo artist)
Ultimately I love to tour and travel and play in front of live audiences. To me that is the most amazing experience (to be able to play and show people what it's all about). I'm really fortunate to play with Arch Enemy because everyone is really on top of their game and very pro. As far as being a solo artist, it's fun too, but I've always enjoyed being a team player and having other band mates to work with and feed ideas off of. I will be doing another solo album in my off time from Arch Enemy. I've already started the writing process….Being able to write solo material is an opportunity for me to show a whole other side of myself. So in reality, I'm lucky I can do both that and be in a touring band.
You have a lot of exciting things happening gear-wise! How did the new Schecter Jeff Loomis signature guitar come about and what can guitar buyers expect from the new instrument? 
I have a very long history with Schecter and I am extremely happy being with them. The Jl-7 guitar has been very successful and is still my main instrument of choice. With Arch Enemy I wanted something a bit more brutal and metal looking so we came up with the Cygnus JLX1 FR. It's based on an early 80's Charvel Star guitar with some tweaks in the design to make it look a bit more intense. I'm very happy with the results because it also has my new Seymour Duncan Signature Blackout pick ups which are brand new for 2016. Check out www.schecterguitars.com and www.seymourduncan.com websites for more info.
What can you tell us about your new Seymour Duncan signature pickup set? 
Every guitar player out there is always chasing a certain tone they want. For me it's a tight bottom end and lots of pick attack for high note lead parts. I basically told Seymour Duncan and my friend Keith Merrow exactly what I wanted. The fun part was when they started sending me prototypes to try out. I would literally go through each one which I believe was about 10 to 12 pick ups, and through a process of elimination would find the exact ones that sounded correct to my specifications.
I now have a set of pick ups that I truly believe are THE sound I have been searching for….they sound killer. They are extremely aggressive pick ups for the kind of music I enjoy playing.
Many of our readers are huge fans of your technique and skill, and often wonder how they can improve as musicians. What do you do to keep your chops up and what does your practice regimen look like? 
The problem with a touring musician as myself is finding new stuff to learn, so I'm constantly on YouTube to try and find a new technique or whatever. I do try to get in an hour before I go onstage, but honestly I'm playing almost all day just because I love it. I don't work on picking or tech stuff for hours like I used to… mostly I'm just trying to write bits and pieces of music and come up with short parts or phrases that could later turn into a tune.
Are you a guitar collector? Do you have any favorites in your collection that you'd like to share a story about? 
I have a lot of them so I guess you could say I'm a bit of a collector. I'm a Schecter guy at heart, but I will tell you two guitars that I love to show friends and sometimes play at home… one of them is a Gibson Les Paul Goldtop which has been a dream of mine to own one since I was a kid… and I also have a couple nice Strats that i enjoy playing from time to time. Other than that I'm playing my Schecter JL-7 Red guitar with a Floyd Rose constantly. It's my go to instrument that I've toured with for years.
You're currently on tour with Arch Enemy. What has the fan reaction to the "War Eternal" tracks being played live? Are there any particular shows that stand out so far from the tour? 
We just wrapped up a 14 month long world tour. For the other members it has been longer because I joined the band/ tour about a quarter of the way in. But the crowd reaction has been incredible. I think I can speak for everyone in the band and just say how fortunate we have beenthese last few years on the road. The songs are very aggressive and fun to play. The highlights for me have been all the summer festivals in Europe and also playing with Nightwish. The shows were gigantic attendance wise and we were playing mostly arenas. It was a fantastic experience.
We did a poll on Facebook and one of the questions we received was this one: If you had to swap your guitar playing abilities with just one other musician – a non-guitarist – who would it be and why? 
Ok hahaha Cool question…..I've always been blown away watching pianists. Such amazing composition and technique goes into being an exceptional player. So if I could be Chopin for a day I would do that!