If you're anything like me, you have felt the pain of playing the guitar. I'm not talking about the blues, or the pain caused by being smacked by the singer; I'm talking about pain and tension in your muscles and joints. We guitarists put our hands through a lot of punishment. Bending strings, holding barre chords, rapid-fire picking – it all adds up, and none of it is good for your muscles or joints. When your hands are aching or your shoulders are locking up, your performance suffers. Worst of all, you might be doing long term damage.
After one too many bouts of tense forearms and sore wrists, I sought help from massage therapists, my physiotherapist, and my family doctor. They all had different approaches to treating my injuries, but all of them prescribed one thing in common: stretching. I compiled the stretches they taught me into one routine that I do before each rehearsal, gig, or recording session. I will describe it with the help of photos of my lovely model here.
DISCLAIMER: Always be careful and listen to what your body is telling you! You must never do a stretch that causes excessive pain or makes your hands or fingers feel numb. If you feel pain or numbness stop immediately and rest. Do not attempt to stretch a muscle, joint, or tendon that is injured. If you are unsure if these stretches are right for you please consult a doctor first.
Start by finding a quiet spot where you have a bit of room to move around. Take off your watch and any heavy jewellery you might have on.
1. Place your palms together in front of your chest. Push your hands downward as far as you can, keeping your palms flat together. You should feel the stretch on the inside of your wrists. Hold for 10 seconds.
2. While holding this pose, slowly rotate your wrists so your fingertips point downward. Rotate as far as you can before it starts to hurt, keeping your palms together. This stretches the tendons along the sides of your wrists. Hold for another 10 seconds.
3. Use the palm of one hand to bend back the thumb of the other hand. Push gently until you feel a stretch in your thumb muscle. Hold each thumb for six seconds.
4. Now stretch each finger back using the palm of your other hand to apply pressure. Keep your wrist loose. Push gently until you feel a stretch in your palm and wrist. Hold each finger for six seconds.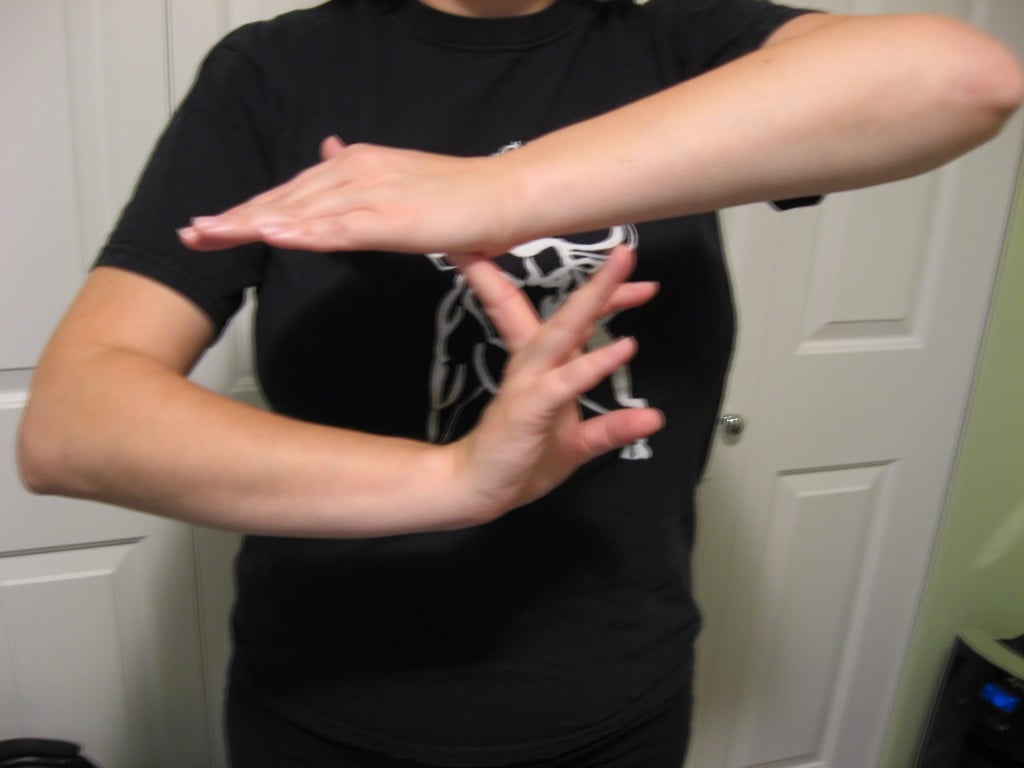 5. With one arm, point your elbow down and keep your forearm vertical. Grab the fingers with your other hand and pull them toward the floor, keeping your forearm straight up. Pull until you feel a stretch in the top of your forearm. Hold for ten seconds on each arm.
6. Lace your fingers together in front of your chest and push your palms out in front of you. This will stretch your forearms, triceps, and shoulders. Hold for 12 seconds.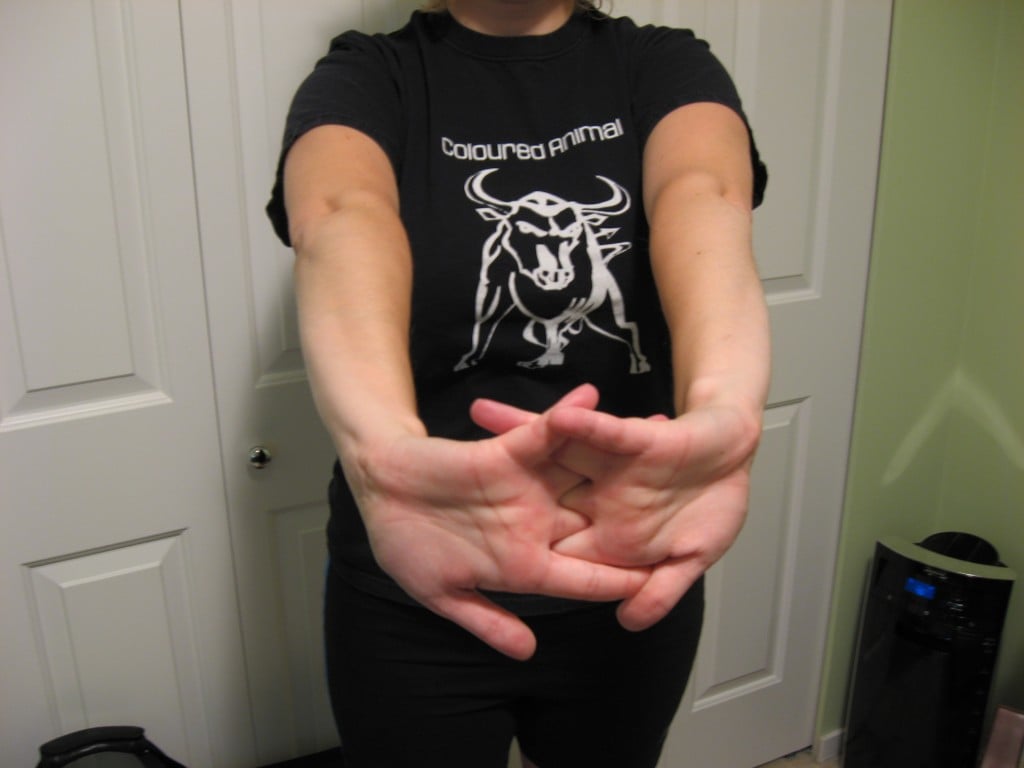 7. Lace your fingers together again behind the small of your back. Pull your shoulders back and try to extend your arms out behind you. This will stretch your forearms, biceps, pecs, and shoulders. Hold for 12 seconds.
8. With your arms above your head, grab one elbow with the other hand and pull your upper arm toward your ear. Try to reach behind your back with your free hand. This is a big tricep stretch. Hold each arm for 10 seconds.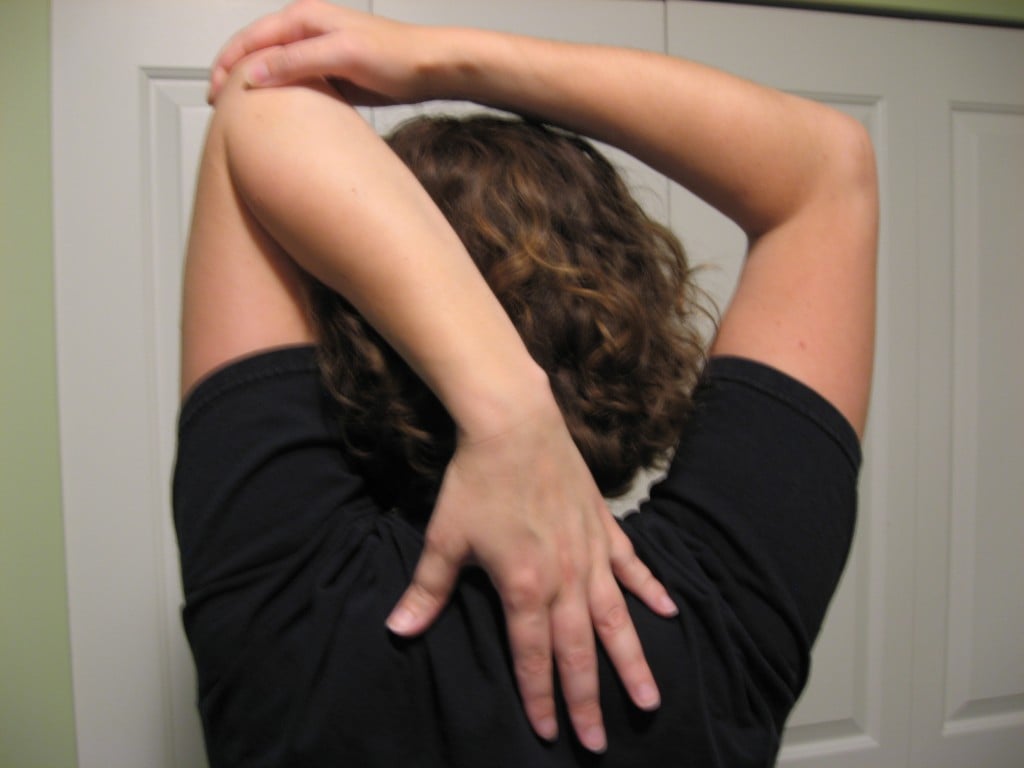 9. Let your arms hang at your sides and shake them up. Relax your elbows and wrists and let your hands swing around a little. This loosens up your muscles and helps get blood circulating into your arms and hands. Shake those arms around for five seconds.
If everything went well, your hands should feel loose and energized, and ready to play. Get out there and show 'em what your supercharged hands and arms can do! When you're done blowing the doors off the joint, it wouldn't hurt to do this routine one more time.
Do you do any stretches or warm-up exercises before you strap a guitar on? Tell me in the comments what works best for you.