I am always intrigued in how things developed. How did the guitar develop to what it is today? How do our views change on what constitutes good tone? Those kind of questions keep me occupied during the slow moments of a day, and one day I was asking myself the question: why do we, as electric guitar players, predominantly use sound systems based on electromagnetism and not on piezo-electrics? To answer that question I dove deep in history to see how the two fields, electromagnetism and piezo-electrics, developed to where they are today.
The end of the 19th century is when experimentation began with electricity, as scientists developed some feel on how solid properties behave in some conditions. Various scientists were exploring how magnetic fields, light, electricity, conductivity and many other physical phenomena behaved. The field got a major boost with the equations of Maxwell, which describe all possible behaviors of electromagnetism. His work was to be crucial to the study of physics, mathematics and later even quantum mechanics, and cannot be disconnected from what we as guitar players do on a very basic, scientific level. Electricity isn't just scientifically monopolized by electromagnetism. Electricity plays a major role in practically every scientific field, for instance pyro-electrics and piezo-electrics.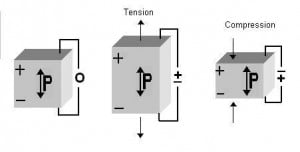 Pyro-electrics and piezo-electrics are connected in a sense that they are similar but with a different premise: pyro-electrics utilize a heat source on the base material to engage an electrical charge, whereas piezo-electrics use pressure. The first doesn't really come in handy on a guitar. Maybe Jimi Hendrix would've liked a pyro-electric enducer on his guitar during his famed concert on the Isle of Wright, but most of us don't carry lighter fluid in our back pockets! The latter does come in handy every once in a while. I mention pyro-electrics specifically because that was the get-go of this field of science. The Pierre Curie, the husband of Marie Curie (who became famous for getting two Nobel Prizes, one in physics and one in chemistry and later became infamous for severe radiation poisoning!) conjured a possible link between pyro-electrics and piezo-electrics and indeed, came to a conclusion that they are related.
Electromagnetism uses coils, currents and permanent magnets to create a voltage. There are several mechanisms at work in electromagnetism but it's sufficient to know that a guitar pickup always has a magnet and a coil. The magnet permeates a permanent magnetic field. The vibrating metal string disturbs that field synchronous with the change of the pitch of the string. This change, in turn, forces the coil to create an induction current, which is also synchronous with the frequency (pitch) of the string. That's how an electromagnetic pickup works, wether it's a humbucker, single coil, P-90, dynastic etc etc. They all work by this same basic principle. It's nothing more but a microphone but instead of a membrane moving with a coil attached to it and the magnetic field staying constant, the magnetic field changes.
A piezo-electric pickup uses pressure to create a current. The current is in close relation with the frequency of the source, of course. The physical reason as to why some materials exhibit this trait is a bit difficult to explain. Simply put, the material has internal charges, positive and negative, and they're separate from one another. Through deforming the material these charges are released because the symmetry of the unity-cell is disturbed. You could regard it as a capacitor that releases a charge when deformed. This analogy isn't perfect, but you get an idea on how it works.
The generated voltage of the piezo-electric system in a guitar is very small. So small that you need a preamp to boost the signal. That on itself isn't something that would put guitar players off from using a piezo, so what could a reason be? A piezo system is very small and lightweight compared to electromagnetic pickups. Sure, you need a battery, but still. A reason could be that the rate of compression is different with a piezo pickup. Hit the strings twice as hard and a magnetic pickup will give a voltage twice as large. With piezo systems it works exponentially: twice as hard means four times as loud. Twice as soft means four times as weak! That dynamic range would make many players go crazy! I know I would! That's why the preamps often have a compressor to soften the high and boost the low peaks of the voltage created by the piezo.
The compression is quite audible, too. Maybe a piezo is just too honest and too pure. There is no voicing of the piezo except via the preamp. A magnetic pickup voices the signal directly at the source. The coil geometry, wire gauge, magnet etc etc all tweak and shape the signal that's being created, allowing you to refine that signal afterwards, but a piezo doesn't have that capability. Frankly, you're stuck with what you've got. I dare say it's similar to the discussion of tubes versus solid-state. Tubes 'sound' warmer, more natural and organic than solid-state, and maybe that's also the case with piezo pickups versus electromagnetic pickups.
At the end of the day, the final tonal verdict is all between your ears. Apparently our hearing is more pleased by the warm(er) tones of a copper wire around a magnet than a pulse generated by a compressed crystal when it comes to playing with an amp but we are more inclined in using a piezo in an acoustic guitar due to its pure, clean (dare I say) crystalline tone.