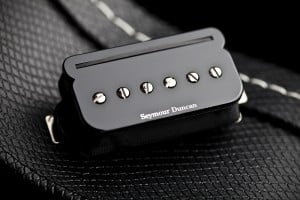 The P-Rails is one of Seymour Duncan's most versatile pickups. It's a humbucker, a P-90 and a single-coil rail pickup in one. However, to access all these sounds it's necessary to do some more complicated wiring then you might do if you're just putting a normal humbucker in your guitar – even if you've already wired a coil split before. The fact that some players go for a fourth sound – both coils wired in parallel – only adds to the potential for wiring confusion.
One way to sidestep any confusion completely is to use Triple Shot mounting rings. They give you immediate access to all four sounds from each pickup without needing to use push/pull pots or mini switches, or even to understand four-conductor wiring. If you're not interested in learning the ins and outs of the P-Rails but you want to take full advantage of them, using Triple Shots is the way to go.

But many players want to gain full control of their P-Rails in other ways. This might be because they're using a 5-way switch, or they'd rather have mini toggles on their guitar, for example. And this means that the P-Rails is one pickup that accounts for a huge amount of the pickup wiring questions that we get.
The purpose of this short series is to give any player who already understands guitar wiring reasonably well, enough insight into the functionality of the P-Rails pickups that they feel confident in designing and implementing a wiring scheme that works for them.
Two Pickups In One
Like all humbuckers, the P-Rails is built from two coils. But unlike most, these coils are completely different to each other in practically every way. When wiring a P-Rails, it's very helpful to think of it as simply being two pickups that happen to be attached to each other.
The following table shows the wire colors and magnetic polarity of each of the four pickups in a two-P-Rails set for neck and bridge:
| Position | Pickup | Start wire | Finish wire | Magnetic polarity |
| --- | --- | --- | --- | --- |
| Neck | P-90 | Black | White | North |
| Neck | Rail | Green | Red | South |
| Bridge | P-90 | Black | White | South |
| Neck | Rail | Green | Red | North |
Of course we always ground the bare wire. That's what keeps the pickup's base plate grounded.
In order to make sure that the two coils cancel each other's hum and are in phase with each other, we'll connect the finish of the P-90 coil (white) to ground, and treat the start (black) as the hot output from that pickup. For the rail coil, we'll connect the start (green) to ground and treat the finish (red) as hot.
P-Rails are different to most humbuckers. In a normal humbucker, a screw coil will always cancel with a slug coil – whether from the same pickup or another humbucker. However, with the P-Rails, they're set up so that the same coils will cancel each other's hum. So two P-90s together will cancel hum, as will two rail coils.
So when we look at a P-Rail pickup now, we should see it like this:
Already it feels simpler. We can completely ignore the rail coil if we want, and just use the P-90 as a pickup on its own. Ignore the green and red wires (so long as they're not connected to anything), connect white to ground and black to hot, and you have a P-90.
This isn't the point of the P-Rails though. We want to be able to switch between different coil configurations. In the next part we'll see what all of those combinations are and how we wire the pickup to achieve that.